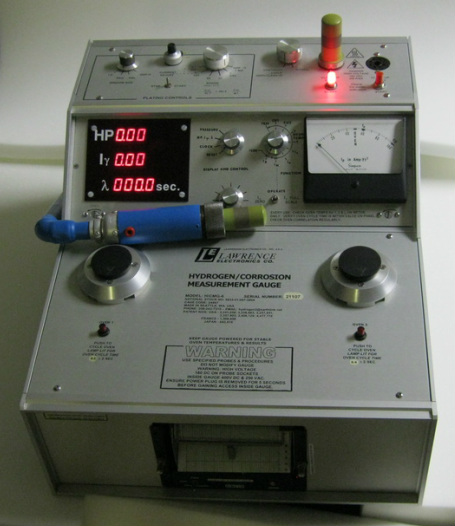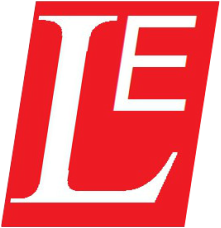 Lawrence Electronics Co
Gary Lawrenson, President
14636 Ambaum Blvd. SW
P.O. Box 66556
Seattle, WA 98166
USA
206-243-7310
206-243-7588 fax
hydrogen2@earthlink.net
---
PROTECT YOUR AIRCRAFT FROM HYDROGEN EMBRITTLEMENT

Save valuable maintenance time and avoid costly equipment rework and downtime. Be sure your equipment is safe and free of deadly embrittlement.
To protect against deadly embrittlement of vital aircraft parts, it is essential to have an understanding of the two basic causes of embrittlement. Corrosion during service life of a part or during plating of metal parts. Parts subject to embrittlement are high strength metals typically used in landing gear and engine mounts.

What is hydrogen embrittlement?
The hydrogen is generated by electro and electroless plating of the part or by corrosion on the surface of the part. All aircraft manufacturers require hydrogen embrittlement tests. Douglas and Boeing prefer gauge testing.

How plating causes embrittlement?
When electro or electroless plating a part, hydrogen is codeposited on the part's surface. Some of the hydrogen moves into the part. This hydrogen will move to high stress points and embrittle the part. To prevent this from happening, a post plating hydrogen relief bake is specified The two aspects of plating hydrogen embrittlement control are:

1. Monitor the amount of hydrogen input during plating.
2. Monitor if the hydrogen can be removed in the bake-out time.

The Lawrence technology provides the only way to measure both parameters.

How corrosion causes embrittlement.
The corrosion of metal is a chemical reaction in which a liquid or gas comes in direct contact with metal… causing a "chemical" attack. As metal corrodes, it releases Hydrogen… which can embrittle a part. Hydrogen "embrittles metal." This embrittlement makes it possible for the metal to physically "fracture" while supporting normal aircraft loads. lf this condition occurs and remains undetected, the results can be both costly and catastrophic. Remember: Corrosion is not always visually detectable, more often than not it only shows its ugly head after a part has failed!

Lawrence Gauges provide the following:

1. Embrittlement testing for one-third the cost of stress rupture testing.
2. Testing results in minutes not days
3. Monitors plating baths or solutions, providing corrective action information before failure.
4. Plating monitoring in fifteen minutes, no waiting 7 days for stress rupture test, reduces process time as well as inventory.
5. Testing of maintenance solutions prior to their use.
6. Immediate quantitative results.
7. Simplicity of operation.
8. Operator training provided at the Lawrence Laboratories.
9. Full one year warranty against defects in material or workmanship.
10. Testing required by MIL-STD-870A. McDonnell Douglas DPS 9.28, ASTM F326-78, ASTM STP 543, Boeing BAC 5804, MIL-STD-1500A.

The gauge monitoring process is fast and cost effective as compared to time consuming pass/fail procedures which do not give you quantitative results.

With the Lawrence Gauge you can go home each night knowing your maintenance procedures have protected your aircraft against hydrogen embrittlement.

The Lawrence Gauge. A small price for a peace of mind.
If you're responsible for the safety and maintenance of your company's aircraft fleet and would like more information on eliminating deadly embrittlement of vital parts, call or write Lawrence Electronics today.

Lawrence Electronics manufactures and has licensed the only Hydrogen Embrittlement Monitoring Gauge used in the world!

The Lawrence gauge is the standard of the industry. The gauge was first introduced to the marketplace in 1960, and is the only gauge that is recognized by maintenance professionals and airframe manufacturers as "the state-of-the-art" for the 1990's.

Lawrence Equipment is used by companies and governments throughout the world.

Lawrence has sold hydrogen and corrosion monitoring equipment and systems to: Air Canada, Air France, Air India, American Airlines, Boeing, Cheng Du Aircraft Factory, China, Chun Shan Institute, Construccion Aeronautica, Delta, Dowty USA, England & Singapore, Eastern Airlines, Embraer, Ethiopian Airlines, Hawker de Havilland, Iberia Airlines, Jugoslovinski Aerotransport, KLM Royal Dutch Airlines, Korean Airlines, Liebherr, Lufthansa Airlines, Messier-Hispano-Bugatti, Nardi, Pakistan Int'l Airlines, Revima UTA Industries, Romanian Government, SEP, Singapore, South African, TAP Air Portugal, Thai Int'l Airways, US Air Force, United Airlines, Varig Airlines. Call for specific references.